From missing out in unforeseen way to navigating a maze of challenges
15.10.2021
Image: GAo ShAn Gallery/ Photo by Heidi Strengell
The topic I set for taking contemporary Finnish jewelry to Design Shanghai is Natural. Aesthetic and Timeless. This boils down the essence of Finnish jewelry that the gallery wants to present to the world. Preparation for the Design Shanghai project started in 2019 when I received an invitation from China for this top international design fair. The gallery has had a very good collaboration with Korutaideyhdistys for the last two years. Our combined passion and adventure spirit enabled us to send Finnish contemporary jewelry to Shanghai. Yet the road there was a pretty tough one to take.
Getting stranded for half a year
As the curator, I travelled to China to prepare for the exhibition at the end of January 2020 but coronavirus containment measures stopped my journey near Wuhan. A combined business trip that included visiting my family ended up as a 55 days long quarantine indoors. Due to missing out on an EU evacuation flight and four commercial flight cancellations, my journey back to Finland took place half a year later in July. So the gallery had to stay closed for half a year. That was the most difficult and stressful thing both from a mental and financial point of view. Passion, strong intuition and belief made me carry on.
Second attempt with works of 18 Finnish participants
So the Design Shanghai 2020 event participation was postponed for one year due to restricted travel.The gallery made the trip again in April 2021 to prepare for the event and joined Design Shanghai 2021 in June 3-6 at the World Expo Exhibition & Convention Center,Shanghai.A selection of 18 Finnish jewelry artists' or designers' pieces were involved in the project, backed up by some classic Finnish contemporary jewelry and objects. A round two hundred pieces of art or design made the trip to Shanghai. It was a tough journey that began with a 14 days of quarantining in a hotel countless corona tests at regular intervals after arrival.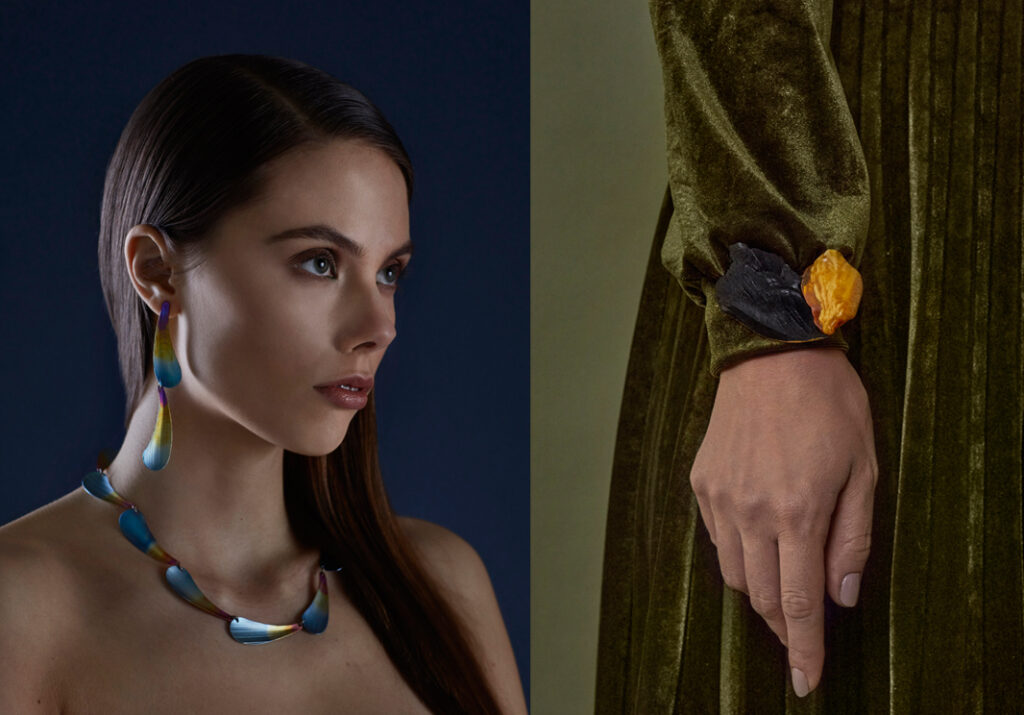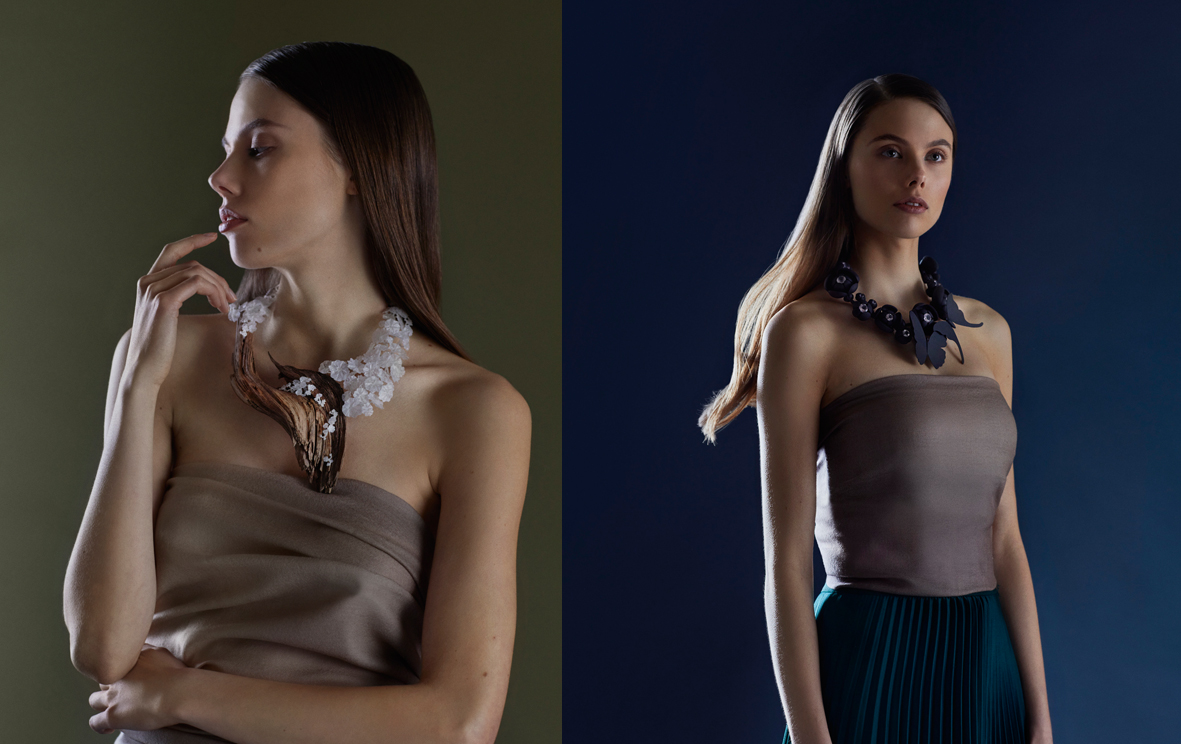 From stress of making it all work to a great relief
Yet the most stressful task was finding help to set up the exhibition stand. Normally a big fair is attended with a team including curator, exhibition co-ordinator, designer and builders etc. The original plan was for some artists and designers to travel together with me, but the corona restrictions put an end to this. Thanks to personal connections my Chinese architecture and designer friends came to help for setting up the exhibition. Thanks to the help of artist Inni Pärnänen delivered via Helena Hyvönen, there were three young students from the Shanghai International College of Fashion and Innovation who helped me to attend the exhibition stand during busy days of the four day event. The Chinese team of Business Finland was also very helpful, three persons came from Beijing to Shanghai for building the stand and attending the opening day of the event for media work.
All this combined, a seemingly  impossible job came to a fruition.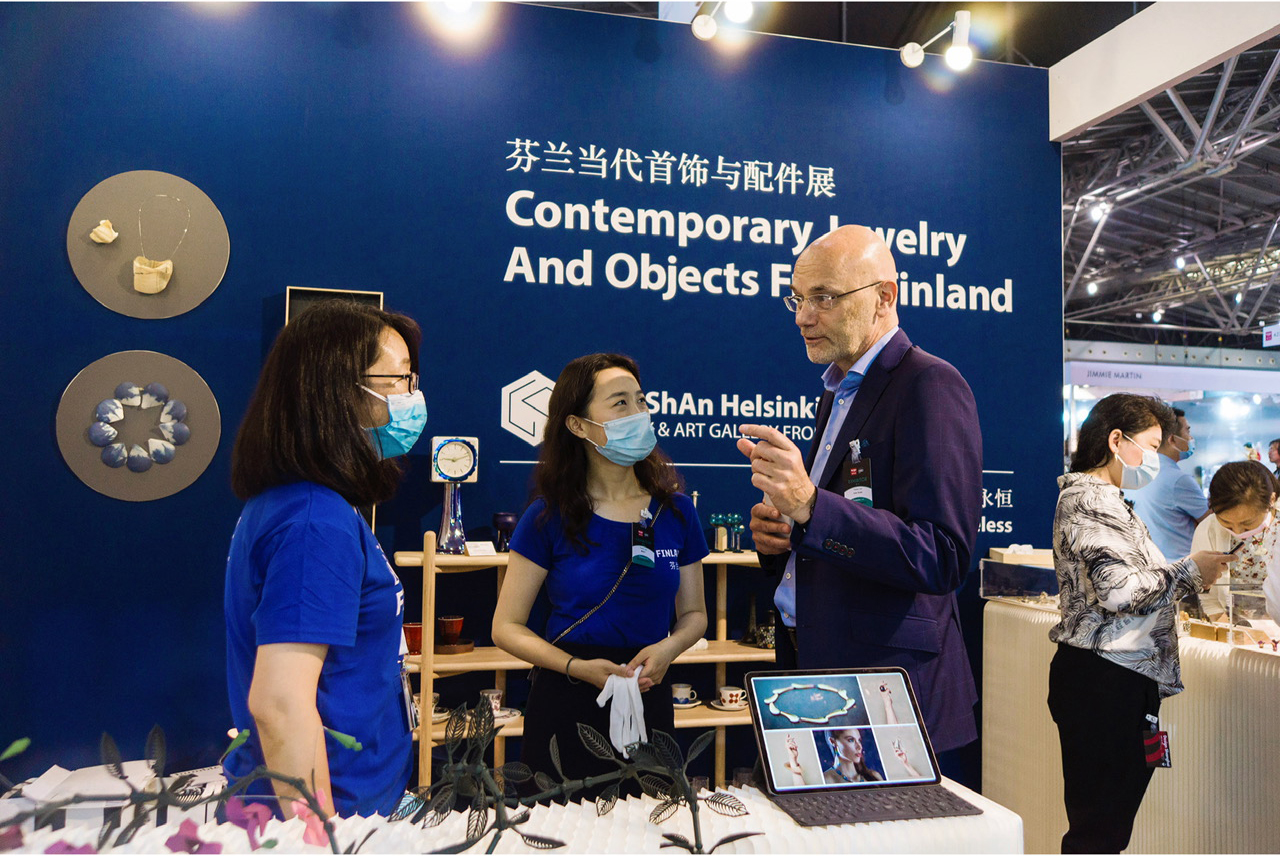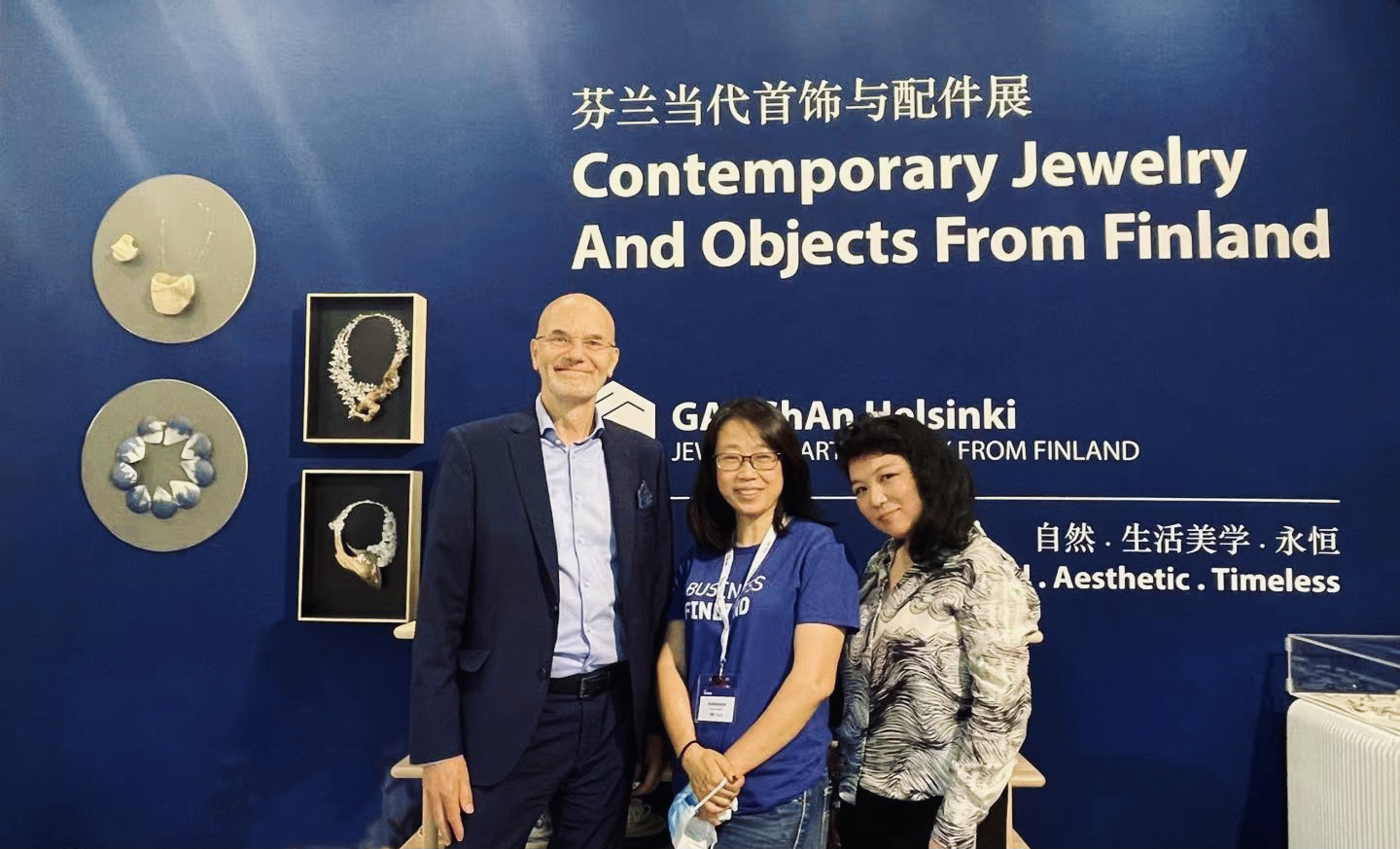 Big attendance made them busy days
The four day design attracted more than 70 000 visitors to the event, and our booth got very busy and popular. The visitors included journalists from the field of art and design, professional artists, designers, architects, collectors and investors.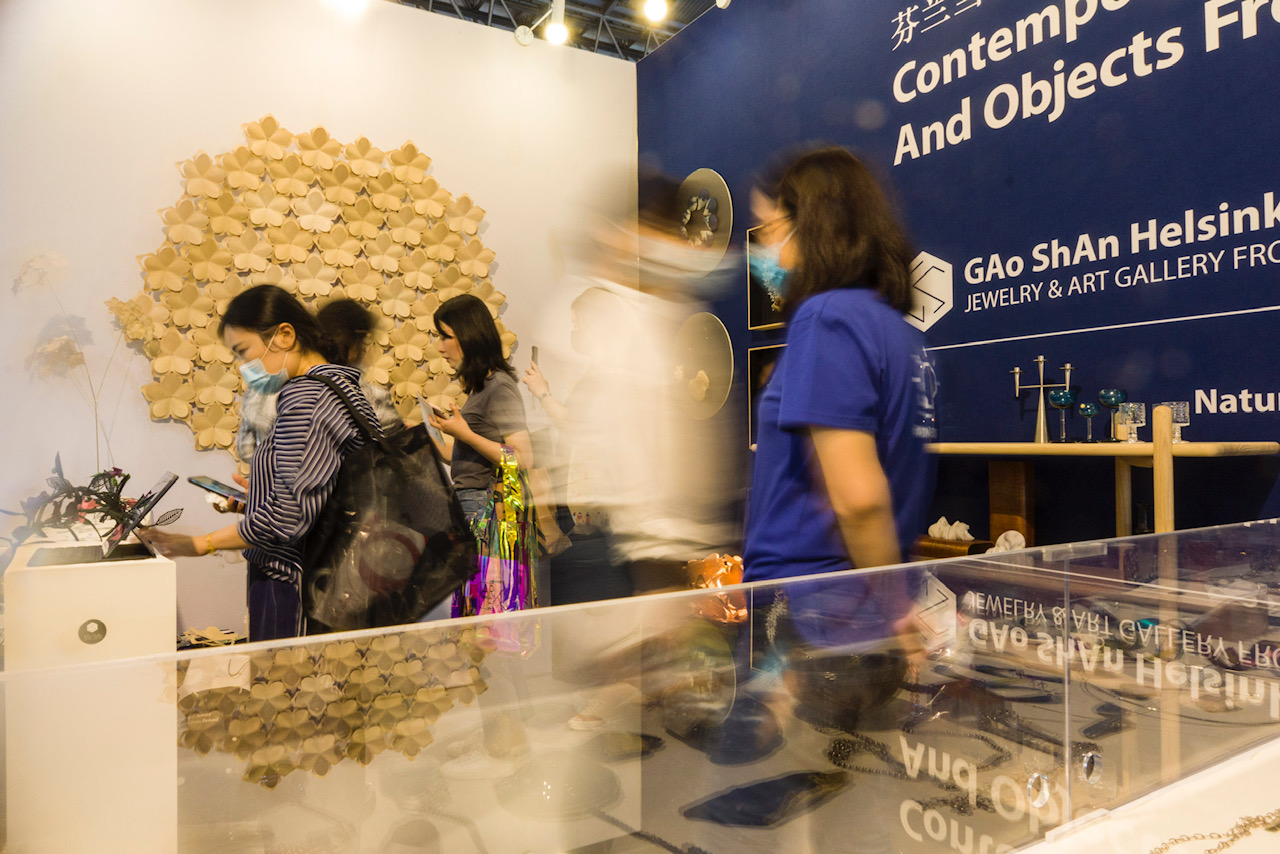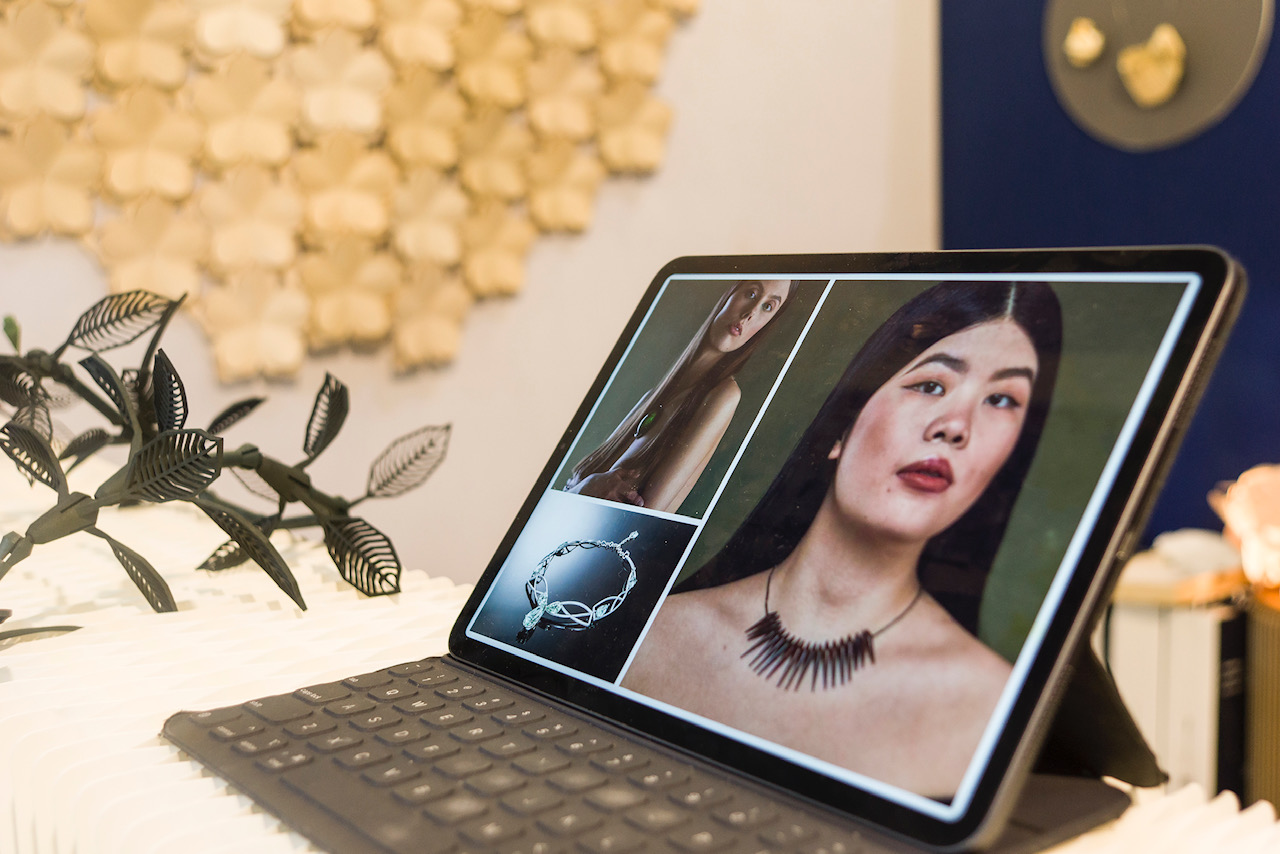 Some of the artworks were featured in Chinese media. Works of 14/ 18 jewelry artists & designers were sold or requested for collaboration during the event. This was better than what I expected and somehow gave me belief that Finland is a strong brand. For the exhibition, we published many social media posts and stories internationally to offer more people some flavour of the event.Ours was the only exhibition stand originally from Finland, in the first show of Finnish Contemporary jewelry in China bringing this much attention.
Blog wiriten by curator Ding Yi.

You can read more about our exhibition at Design Shanghai:
https://www.goodnewsfinland.com/finnish-contemporary-jewellery-finds-inspiration-naturally/
https://klimt02.net/events/exhibitions/works-18-finnish-jewellery-artists-and-designers-display-design-shanghai-design-shanghai
https://www.goodnewsfinland.com/ru/sovremennye-finskie-yuveliry-cherpayut-vdohnovenie-v-okruzhayushhem-mire/
https://mp.weixin.qq.com/s/-t7-U9BX2F_QR3ScUhDVnA
https://www.goodnewsfinland.com/cn/finnish-contemporary-jewellery/
https://mp.weixin.qq.com/s/JsFWT64bZP9MK9q8aFWeLA